ELC goes out to play
28 March 2018
2018-03-20 9:22
ELC goes out to play
ELC goes out to play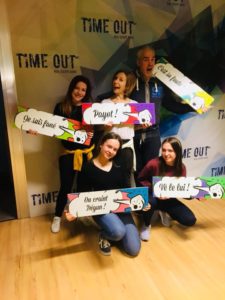 ELC has been specialised in training adults since 2004 and over the years, we have come to understand that no-one really wants to go back to the school bench, learn long tables of verbs, recite dialogues by heart, have chalk thrown at their head and stand in the corner with the Dunce's cap on….
And so, what we like to do here at ELC is treat adults like adults. Our aim is to partner our clients, have great discussions with our students, swap ideas with some great people and learn and grow together.
However, this does not mean to say that we don't like to play. On the contrary, we love to play! One of the best ways to learn is when you don't even realise you're learning! It makes the process painless and productive, even if a little pain from time to time is good for motivation.
We LOVE our Big Fat Quizzes at the beginning of the year, we love using the lyrics of songs to test vocab (we have even been known to break into song, mid-lesson), we love our themed Taboo games, our Murder Mystery games and our games of Nonsense…
And so it was, that in the spirit of gaming and generally having fun, Katie and I decided to go to the Escape Room in rue Paradis this weekend, where we went back in time to the 1940s and the era of the French Connection. And ooh, we did have fun! We were maybe not the sharpest tools in the proverbial shed nor the quickest, but we solved our crime 2 minutes before our heroin lab exploded and we were blown to pieces, so all was good!
We are putting our stamp of approval and can only suggest that our students do it in English (as is possible! How wonderful!)