TEDx Canebière
12 March 2018
2018-05-11 10:47
TEDx Canebière
TEDx Canebière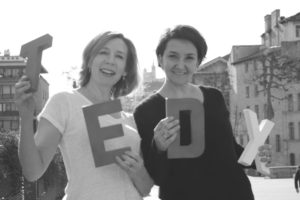 For those of you who are unfamiliar with the concept, TED conferences were born 34 years ago in 1984, the principle being to bring together people with stories to tell and people with imaginative and curious minds, interested in hearing those stories. The acronym TED comes from Technology, Entertainment and Design and as such, all the stories revolve around these themes.
One of the wonderful things about TED conferences is the feeling of belonging to a community of thinkers and doers under an umbrella of benevolence. Independent TED events or "TEDx" conferences comply to a strict charter and any kind of religious and political dogma is banned. Such is also the case for any kind of commercial peddling. As a result, what we find, when we log on the TED website, are people with ideas to change the world and make life a little bit better.
I am a great believer in grassroots movements, whereby great ideas come from local communities and are built-up into much bigger, better and stronger ideas as other communities adhere. This is one of the reasons why I am unashamedly a TED addict!
You can thus imagine my joy and excitement when I was approached by a good friend, Sandra Rigal, who was putting together a TEDx conference here in Marseille and looking for volunteers to help!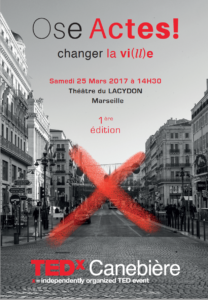 Thus it was that in 2017, we put together the very first TEDx Canebière, bringing together actors from the region to prove the worthiness of Marseille and the Marseillais, under the theme of "Ose Actes – changer la vi(ll)e".
It was a wonderful experience for all involved: from those working to source speakers and coach them to speak on stage, to those attending the event. So wonderful, in fact, that we couldn't wait to start again!
So here is the date to save: Saturday 9th June, 2018 at the Theatre de la Joliette. http://www.tedxcanebiere.fr
Keep your eye out for the opening of the ticket office. There might not be enough places for everyone!
In the meantime, I urge you to enter the realm of TED at your peril. You might become as addicted as me … https://www.ted.com/talks